We have already talked about the open source website scripts in the previous story, WordPress vs Joomla. While these open source scripts deliver a great control over websites, they definitely need a learning curve. You can pretty easily learn beginners essentials e.g buying a domain, webhost etc though our web development tutorial series, but learning about working on WordPress or Joomla like a pro takes a bit of time.
If you are in a hurry to launch your first website, you can take a route to DIY (Do it yourself) website builders. Instead of starting with hosting and configuration, you can directly jump in to an easy to use backend to drag and drop the elements of your website.

Creating a website with these service providers are as easy as placing your stuffs on a webpage and fill your content, but your control over various components of website are very limited in comparison to open source scripts. We recommend this route only if you need to create a basic website in jiffy.
Weebly and Wix are two most popular service providers in this field. Here in this article, we do a head to head comparison to see which can best suit your requirement as DIY website maker.
Weebly vs WIX: Which is the best Drag and drop website builder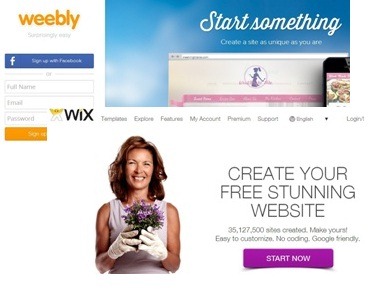 This is one of the most debated topic when it comes to Drag and drop website builders. To start with, both are free and serve a similar objective i.e. provide a graphical user interface to enable users create beautiful websites. In my views, the similarity ends here. They sound similar yet a lot different in terms of usability and output.
When you opt for any of them, you invest some amount of effort, time and probably some money. Its vital to understand the differences in and out in order to choose one for your project.
Starting up
Starting with any one of them is pretty easy, just sign up and you are good to go. The next step is obvious, choose a template. This is where you need to pause and know something.
When it comes to variety, Wix significantly wins here. It has a wide variety of beautiful templates which look more stunning than what we get ion Weebly, but there is a big catch. With Wix, you are locked in with a template you choose initially. Dare you think of change, all your efforts are lost and you are forced to start again from the scratch. When you start with Weebly, feel free to start with any template. If you don't like it, change it later, Your data remains intact.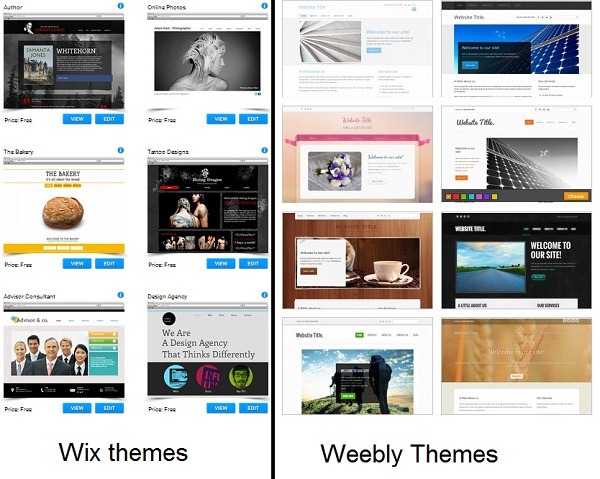 Ease of use
Wix delivers the pure Drag and drop functionality. You can insert elements and drag them to any part of the web pages. This enables users to create a website looking exactly similar to what they have in mind. You can drag an element inch by inch, insert and edit text and images with ease. But you know the downside, all your efforts are gone if you wish to change your template.
In case of Weebly, you get drag an drop feature, but not as flexible as Wix. You can start with inserting the elements e.g. Text boxes, Images, Columns, Videos etc in to the designated areas e.g. body, footer etc. The dragged element will fit itself in to the entire designated area. For example, if you insert and image element in the body, it will stick to the top with width touching both sides of the area.
There's a very smart way to control the elements on Weebly with columns and dividers. Weebly allows you to insert columns as any other element. You can choose to divide the entire width in to 2-3 columns, drag to adjust the width of columns and insert other elements exactly where you need. The benefit of this concept is that you can anytime wish to change your templates and all the content created remains intact.
Another strong edge with Weebly is the HTML Editor. If you know a bit if coding (or can afford a coder), you can peep into backend to get a better control through codes.
Wix definitely has an upper hand with true drag and drop feature but the desired results could be achieved from Weebly as well. In fact for a newbie, its better to start with Weebly as the predefined designated areas helps placing you placing your elements uniformly.
Pricing
Both Weebly and Wix are free to start, but are ad supported. I like the way Weebly places ads on your website. Its ads are normally placed in the footer leaving the body part your web pages intact. This is something like you are giving a credit to website builders.

The Ads placed by Wix looks weird. It places one ad at the top right corner and another at the bottom of the page. To worsen, these ads are fixed with the browser and don't scroll with web pages (Floating ads).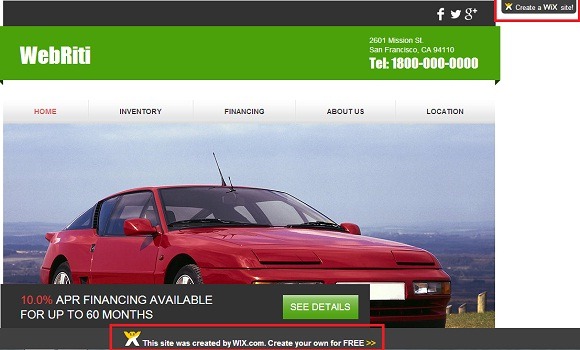 You can get rid of these ads by buying a paid subscription. You can choose among 2 different plans of Weebly starting $3.29 month. While the starter plans enables you to remove Weebly ad, access to stats, favicons etc, the Pro plans gives you even more flexibility. Here is a detailed comparison of Weebly pricing structure.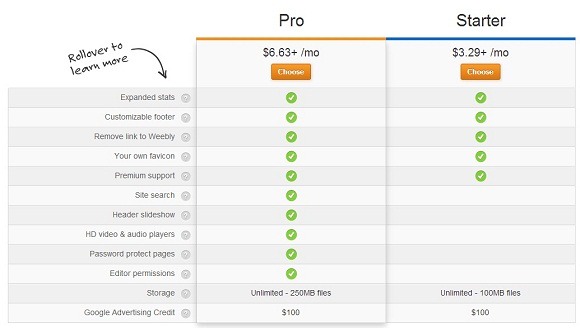 Wix differentiates its pricing models in to 4 different plans starting $ 4.08. The most basic plan lets you connect your domain and analytics, you need a better plan to get rid of ads. The highest plan also lets you run an eCommerce portal on Wix.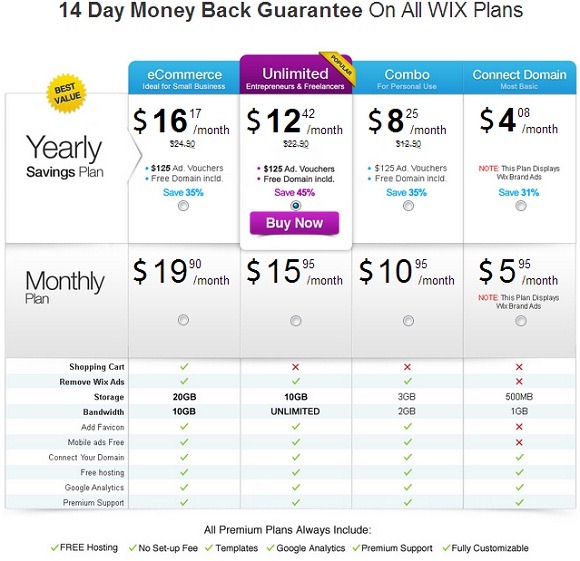 Verdict
Both Wix and Weebly have its own Pros and Cons. While some might like the higher flexibility offered by Wix, some might incline towards the minimalistic approach of Weebly as it make things easier. Wix delivers better looking templates but changing it later is a big pain. Weebly has simple looking templates but is suitable for newbie. For further customization, you can opt to peep into HTML editor which is not available in Wix. Placement of advertisement is another issue where Weebly takes a lead if you are not looking for a premium plan.
If you are completely new to web designing and looking to make a simple website quickly, start with Weebly. With time, if you make yourself more comfortable with drag and drop thing, you can consider switching to Wix.