A stable contact form is an important element of a complete website. Be it a blog or a business website, your target audience would like to reach you. Depending on the type of your website, you would like to integrate different sets of form fields. For example a hotelier would integrate a form to help his customers book accommodations, while a blogger would like to receive feedback from the readers.
Hence, a contact form plugin which supports a wide variety of form fields and is easy to use is the necessity of a WordPress powered blog. I have made a numerous websites for my clients and used a variety of themes and plugins depending on their requirement. But something which was consistent across most of the portals was the "Fast Secure Contact Form" Plugin by Mike Challis. I have also used "Contact Form 7" which is another powerful contact form plugin, but as far as ease of use is concerned, nothing beats FSCF.
Here is a hands on review of Fast Secure Contact Form.
Features:
FSCF boasts a long list of features worth mentioning. a list of most important features goes as below:
Supports multiple forms
Supports complex form fields like date, attachments etc
Backup/restore forms
Redirection to specified url after form submission
Auto-responder
Supports Captcha/Spam protection
Offers scheduling, meeting and payment via vCita
Needless to say other essential features like customizable CSS, Mutiple email delivery are their by default.
User interface:
As soon you install the Fast Secure Contact From plugin, an option menu will be added under the Plugins, click on it and you have a powerful admin panel.
To start with you have a multi-form menu where you can choose the number of multi-forms you need to use in your blog.
Here you can choose a name for multi-forms and also click on view to see how the form looks after every time you make some changes. Note that you wont be able to see any css effects here. Click on edit and you will be back to the admin panel again.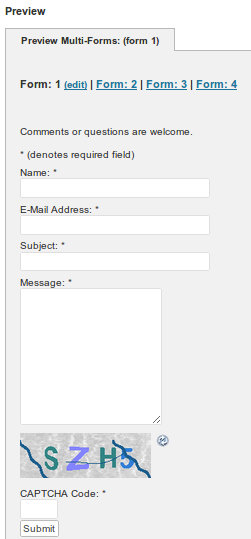 Then comes an option to change the welcome message followed by the submission setting panel where you can configure what happens once the form is submitted by the user.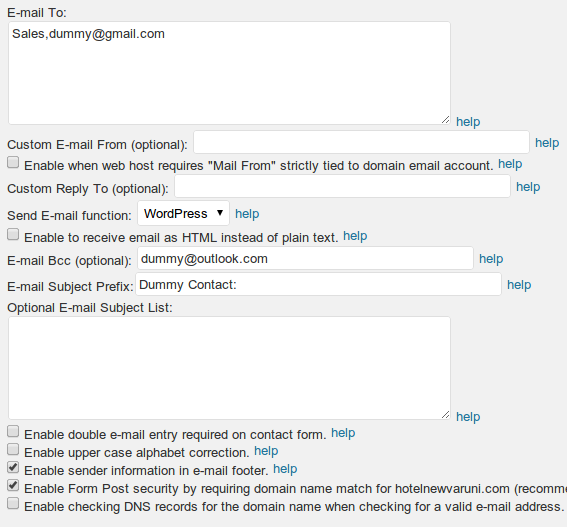 Here you can put the email id you would like to receive the form details after submission. But that's not it, a wide array of options let you gain better control over every small things e.g. bcc mail id, which engine (WordPress or php) to use for emailing and ton of other stuffs.
Next you can configure a confirmation email if you wish. It will send a confirmation to the user that the form has been submitted successfully.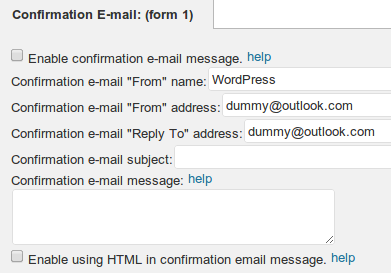 Scroll further and you have spam protection settings. Everything is self explainable and pretty easy to use.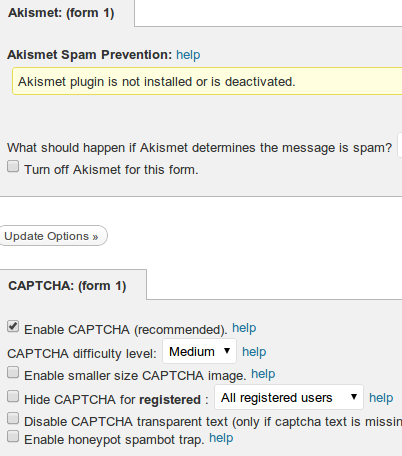 After  all the miscellaneous settings are over, you reach the real playground where you would be editing, adding and removing the form fields. Adding form fields are pretty easy, plus a detailed guideline is available right above the editing area.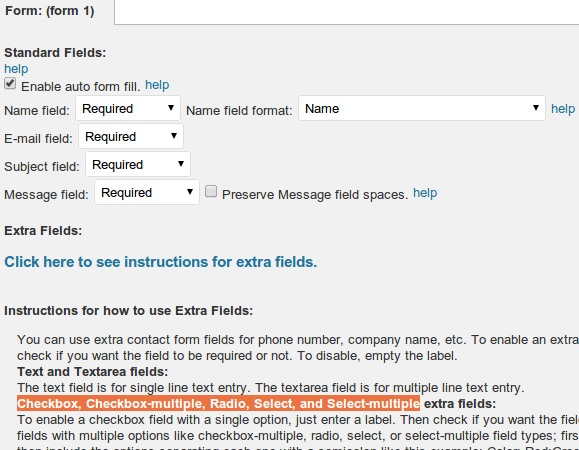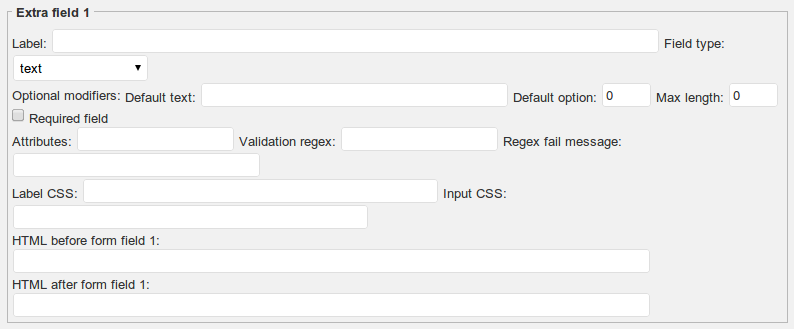 The form fields supported here are:
Text and Text area
Checkbox, Checkbox-multiple, Radio, Select, and Select-multiple
Attachment
Date
Time
Email
URL
Hidden
Password
Fieldset
Adding an extra field is pretty easy once you go through the instructions. Also, You can choose to make it a required field, assign a css label and lot more.
Well, the user interface doesn't stop here. You can keep scrolling down to configure vCita, redirection, export, CSS etc. Most of which you would rarely use until and unless you are an advance user.
Once you have added and edited the fields, update the settings and you are done. Just use the shortcode [si-contact-form form='1′] to display the form wherever you need. You can embed the  form anywhere in your blog including widgets, pages etc.
Summing up:
Its hard to believe that such a robust yet easy to use plugin is free. Fast Secure Contact Form is a stable yet frequently updated plugin and a great free alternative to paid plugins like Gravity. This is the best free contact form plugin available around for WordPress, go for it.
Rating: 4.5/5