Having gone through the primary requisites of , and domain mapping, its time to decide how to actually build the pages of your website.
There are several ways to go about it. The most basic and also the most intimidating road to build your web page is to hand code it using programming languages like HTML, CSS and Javascript. The problem with this traditional method  is that it involves a  pretty long learning curve that often scares away the non-tech-savvy user.
This problem was solved with the advent of open source content management systems (CMS) like WordPress and Joomla. These provided a graphical user-interface and considerably reduced the need to learn any of the programming languages. You could just click a couple of buttons here and there and voila! You would have had a page with its most common elements flash on your screen.
Since this series of articles is intended for the non-technical user or someone without any knowledge of programming, I am going to skip teaching you how to code your web pages. Instead, what I'll do, is to help you decide which platform to opt for. One term that you might have frequently came across while educating yourself about this field is Content Management System or CMS. As the name suggests it is a "machine" (read software) to help you manage the information or content (as it is also known these days in online publishing). WordPress and Joomla fall under this category. What follows now is essentially a comparison between the two.
WordPress vs Joomla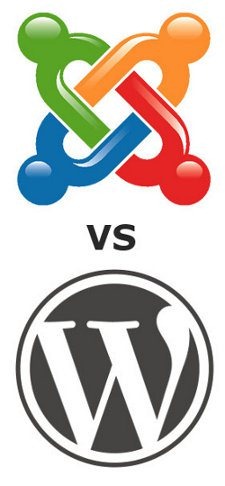 WordPress was developed as a blog software but with time the community grew and it evolved as a full fledged CMS. The code generated by WordPress is web standard and hence Google loves WordPress. Its easy to install, customize and you can easily create pages and posts with its graphical user interface (GUI). To add more customizations and functionality, there are add-on scripts called themes and plugins. The structure of the navigation is decided by the template you choose, though you have always an option to fully control it via backend. Templates (read WordPress Themes) are pre programmed designs that control the look, feel and functionality of your site. However, altering the structure requires knowledge of WordPress scripting language and CSS.
The interface that WordPress  provides is easy to understand and one  normally does not require a book to  find his (or her) way around. With Joomla it is advisable to get a good book if you do not want to spend days fiddling around and getting nowhere.
Joomla is preferred usually when you want to create a community or a network with memberships, news rooms, forums and article input from other authors. Moreover, in Joomla you could set articles to expire after certain time, activate dates, author names, breadcrumbs etc. Creating navigation structure is  easy once you understand how its oriented.
Beyond this point, however, things get somewhat complicated and seasoned programmers also have to go through a learning curve before they can play around with the layout system and that also depends on the layout template that you may choose.
Another issue to be taken into account is that Joomla requires a lot of resources from the server as its core structure is complex. The database needs to be tweaked for improved performance, otherwise with a few plugins here and there, and the website begins to break down at around 50,000 visitors or so per day.
Do I see you perplexed? With the jargon involved and with the way these CMSs are structured, newbies can easily find themselves baffled. The  most important point to be considered is – what do I need the website for?
WordPress is simple to learn and comprehend. You could see  it as a blogging  platform or something a little more serious. It has fixed posts, pages and categories; all of which are intuitive and best to begin with for a novice.
Joomla may seem complicated at first and that's because it is a bit complicated. The functionality it provides requires complexity and thus makes it all the more intense, focused and catering to more evolved needs. For instance, if you want to have your members at different levels of permission and you want to have your content presented more or less like a magazine, Joomla is your best bet.
Comparing Joomla with WordPress – Face to face
Pros
Cons
WordPress
– Easy to install
– Easy to learn
– SEO Friendly
– Highly customizable via themes and plugins
– Large and helpful community
– Might lack behind Joomla when it comes to complex websites
– Less Secured than Joomla
Joomla
– Can be used to create complex websites
– Easy to setup
– Better user management
– Features can be added through extensions (plugins)
– Steep learning curve
– Resource hog
– Diminishing user base
If you are a newbie, close your eyes and go with WordPress, its fun & learn kind of thing. However, if you know some tits and bits of coding, no bad in trying Joomla.