According to Google trends the term "Plumber near me" has seen a significant rise in the searches. The increase in the searches mean, that people have started depending on Google for results like this, that also hints us that everyone who searches for such keywords has the potential to get converted from a visitor to a customer.
A lot of people still believe that plumbing business needs a local reach, but the rise in usage of a keyword like 'Plumber near me' gives us a clear idea that there is a chance that we can convert the particular user to a customer. Doing that would be only possible with an attractive site.
WordPress is one of the best and easy to implement CMS, The platform is not only easy to use but has a huge number of themes which shall make setting up the site a lot more quicker. Doing it quicker doesn't mean attractive. Since it is easy to use a business can focus on the main thing rather than the site.
Selecting a look for your plumber website can be tough, that's why we are here with the list of 10 best WordPress theme for your plumbing website. Without wasting a minute more, let's begin with the list of themes.
Plumber – Construction and Repairing WordPress Theme
Designed specifically for the needs of plumbers, electrician and people in similar businesses, this theme features many such options which make it a great choice for those in the plumbing and maintenance businesses.  It showcases a variety of options, for developers as well as for the users. The theme allows those who are new to web-development to easily set up the website in just one-click, following which they only need to replace the content.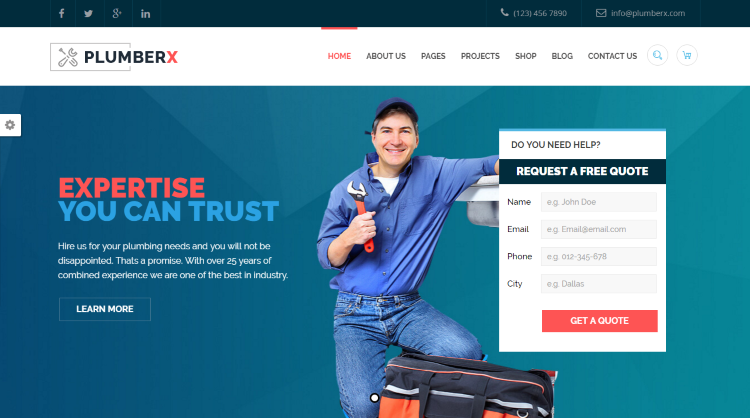 The PlumberX WordPress theme also features a number of customization options. This makes it easy for the webmasters to change the theme and the visual style of the website in just a few simple steps without having to work on any code. A definite option for those in the plumbing, construction, repairs and maintenance business.
---
Plumber – Building & Construction Business Theme
A popular WordPress theme for plumbers, as well as handymen of various similar professions, the Plumber Building & Construction Business Theme offers the webmasters with a very simple layout to create a website and a visually appealing look to the visitors. The theme features a fully responsive design and comes with a large number of color variants and options.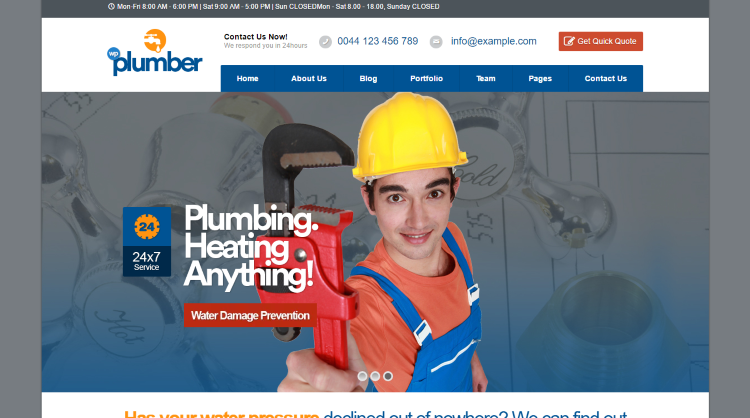 The customer support of this theme too is quite good. Plumber Building & Construction Business Theme features over 650 Google Fonts and comes with the Revolution Sider plugin pre-loaded. The theme is also translation ready and comes with advanced SEO options built-in, and there is no need for an additional SEO plugin after that.
---
Renovation – Home Maintenance, Repair Service Theme
Renovation is the ideal theme for a team of men working together in the profession of any sorts of home repairs and maintenance. It takes maintenance to a whole new level – it rebrands it as renovation, and it is truly a renovated theme too. This theme does not bear the looks of a handyman's theme, and gives it a more modern and elite approach.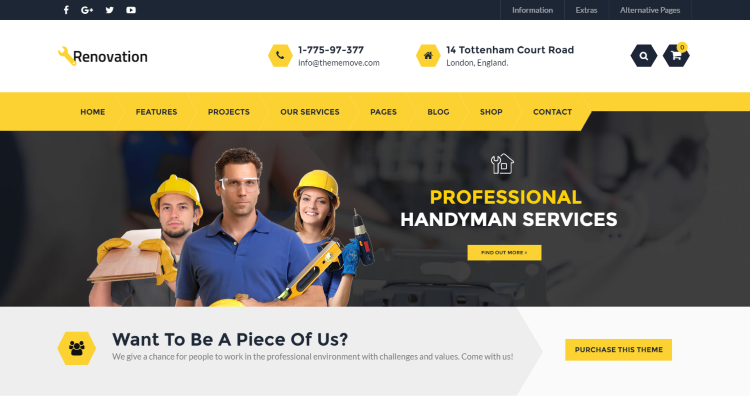 Renovation WordPress theme is very appealing visually, and it features access to Templatera, Essential Grid, Revolution Slider, Contact Form 7, MailChimp for WordPress and Testimonials as additional benefits. It features 5 home-screens, and a fully responsive, retina-ready look. The Renovation WordPress Theme is also compatible with Woo Commerce.
---
Plumber Zone WordPress Theme
Another of the most popular WordPress Theme for Plumbers, the Plumber Zone theme features a number of lucrative features which entice the users to hire these groups of plumbers, repair and maintenance professionals, and handymen. The theme comes with the visual composer packed in it, which allows the developers to simply drag and drop the elements of the theme together.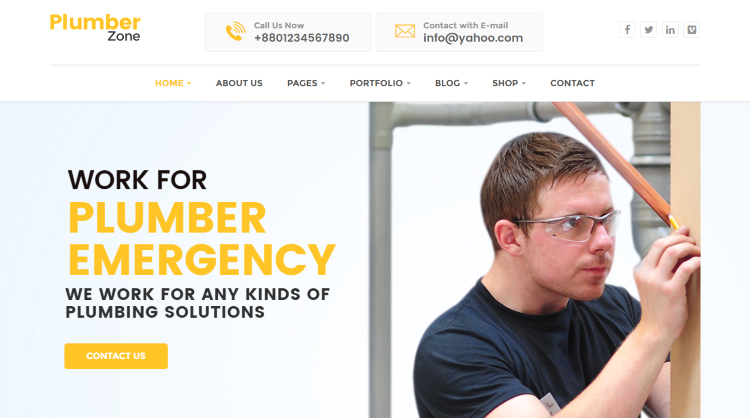 Moreover, the Plumber Zone WordPress Theme also features Master slider, Contact Form 7, MailPoet Newsletters for WP and testimonial. The Plumber Zone WordPress Theme for plumbers is SEO friendly, and has a dedicated support team which helps the developers at any point of time they need assistance!
---
Plumbing – Repair, Building & Construction Theme
The Plumbing Company premium WordPress Theme is made for the needs of Plumbers and plumbing companies. However, it fits the needs of any such organization which works in the home maintenance and repairs industry. It is a WooCommerce ready theme and allows the users to easily build an online store for tools and equipment.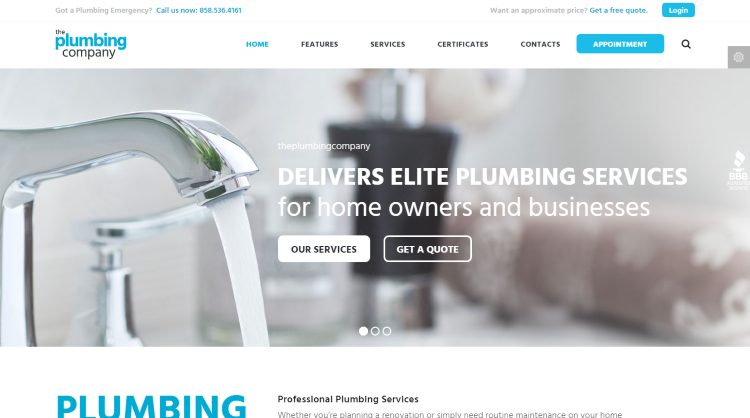 The Plumbing Company WordPress Theme is mobile-friendly and allows the visitors to easily book appointments via the WP Booking Calendar plugin. It also comes with the Visual Composer, which allows the webmasters and developers of the website to easily build the site by just dragging and dropping elements around without the need to actually write even a single line of code! It features various gallery styles and supports translations too.
---
Plumbing and Building Parts, Tools & Accessories Store
Yet another theme for Plumbers who want to take their business online, this theme features a number of options for customizations and features support for various similar household-maintenance businesses. The theme is meant for plumbers but suits the needs of other similar professions like carpentry, remodelling, etc. What is really great about this theme is that it focuses more on the business side of things, and is woo commerce ready!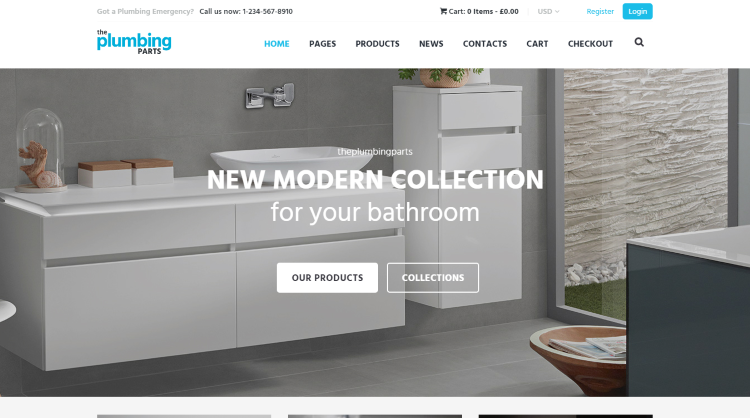 The Plumbing Parts WordPress Theme features Visual Composer and Essential Grid plugins, which help the developers create the website rather quickly, and with great ease! It also comes with a number of demo layouts, upon which the webmasters can directly start piling content quickly. The Plumbing Parts WordPress Theme is fully responsive too.
---
Dexterity – WordPress Theme for Plumbers
Another popular WordPress Theme for plumbers, and various other similar handymen, Dexterity is quite an impressive theme. The latest update to the theme now makes it compatible with Woo Commerce as well, which is another great benefit to the developers who wish to set up an online store. It features the Unyson drag & drop page builder, which makes web-development a much easier task!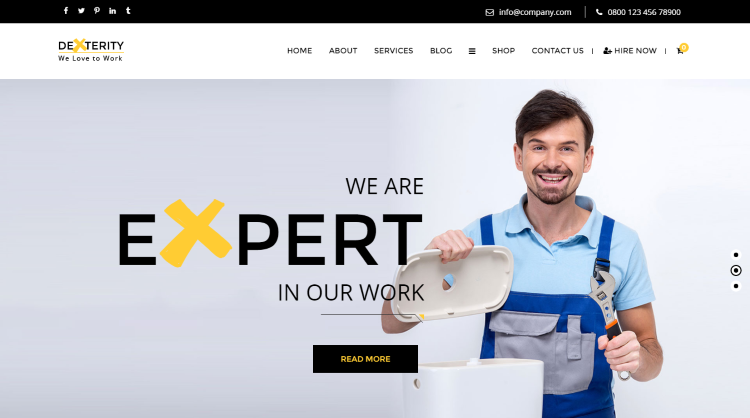 The Dexterity WordPress Theme offers the developers with options of 3 different home pages, as well as two variants of the header.  The theme also allows the visitors to book appointments online! It supports MailChimp newsletters, and also has parallax effects, giving it a very modern and appealing look! This is indeed quite a nice WordPress theme for Plumbers.
---
Plumbin – A WordPress Theme For Plumbers
One of the most specifically designed theme for Plumbers, this theme offers the complete solution to all the online needs of anyone in the business of plumbing. It is quite a modern theme and is very visually appealing too. It was made after a one-month research, and after visits to plumbing companies, and knowing the needs of the industry.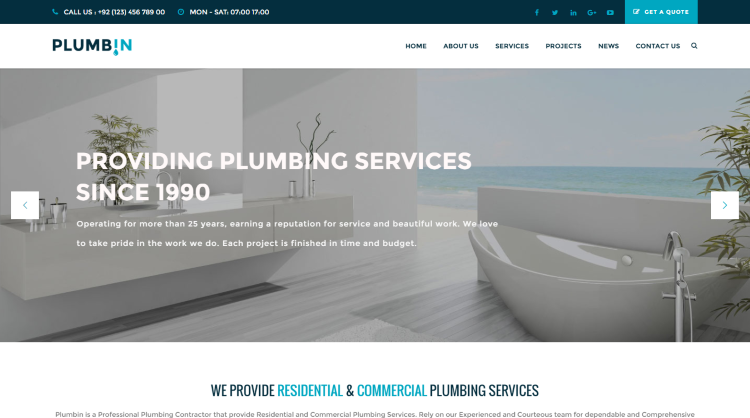 The Plumbin WordPress Theme features the Visual Composer and Slider Revolution plugins built-in and free of cost! In addition to that, it supports one-click demo import, and a large number of admin panel options too. It provides performance optimization, and features valid HTML5 and CSS3 codes, as per the latest web standards!  Indeed one of the best WordPress themes for plumbers.
---
Blue Collar – Handyman WordPress Theme for Plumbers
A theme made for all sorts of handymen, but particularly applicable for plumbers, the Blue Collar handyman WordPress theme features many major features like Drag and Drop Page Builders, Shortcode generators, translations and RTL support (Right to Left for languages like Arabic). This theme comes with numerous skins, and supports the creation of custom skins via SASS.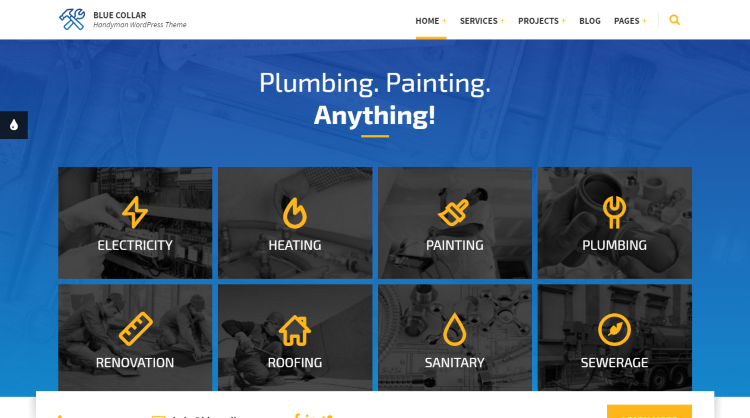 In addition to that, the Blue Collar Handyman WordPress theme also has a fully responsive layout and easily runs on all devices irrespective of shapes and sizes. The visual composer too comes with this theme and allows the developers to easily create the website as per the needs of the plumbing company. This is indeed quite a good theme for all plumbers and plumbing companies that aspire to go online!
---
Plumbing – Plumber & Repair Services WordPress Theme
Yet another WordPress Theme for Plumbers, the theme is named 'Plumbing' and has many essential features that are needed for a plumbing business on their website! The theme is fully responsive and works well across a variety of devices. The Plumbing WordPress Theme features a number of premium plugins such as the Visual Composer and Contact Form 7, among many others.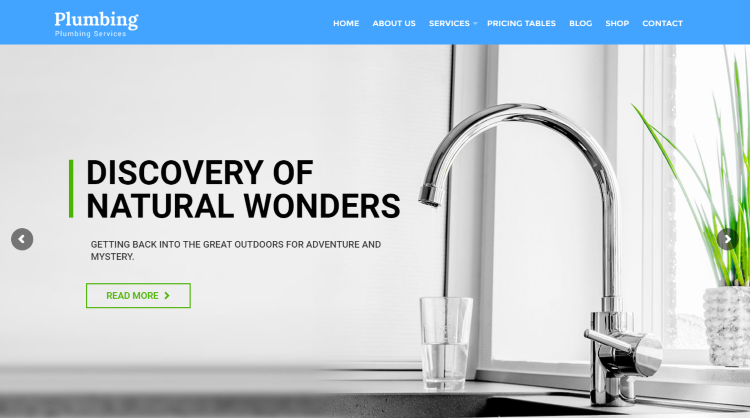 The Plumbing theme also features demo themes, that allows the users to easily install the full website using the one-click installation. It features easy font selections, and support for Google Maps as well. The Plumbing WordPress Theme features a custom 404 support, and is crafted keeping SEO needs in mind!
---
Endnote
In this list, we shared with you the 10 best themes for plumbing websites on WordPress. These themes are attractive and have the power to convert the visitors into customers. Using any of theme we mentioned above, please comment your experience and help other people here decide the best theme for their plumbing website